Gulf Stream Coach Releases GEO Travel Trailer at Louisville Show
(December, 2016) GEO, the newest travel trailer brand from leading independent producer Gulf Stream Coach of Nappanee, Indiana, will be prominently featured at the upcoming RVIA Show in Louisville. Called "an exciting new blend of leading-edge design and extraordinary value," the GEO exterior features laminated construction and a molded fiberglass cap with LED accent lights. Inside, the inspiration comes from the latest interior design ideas, with clean, contemporary lines and an upscale color palette.
"We want GEO to reflect the style and innovation seen in today's homes and hotels, specifically to attract non-traditional customers and first-time buyers," said Gulf Stream Lightweight Division National Sales Manager Tim Dennig. "GEO is the kind of travel trailer that new campers want - Solidly built, well-equipped, stylishly designed, and easy to tow."
GEO includes a package of popular features and options to give owners design and technology hot buttons while keeping prices low. Included are luxuries like solid-surface counters with an 'infinity' edge, a stainless steel kitchen faucet with pull-out sprayer, power awning with LED atmosphere lighting, USB charging ports, and a Blue Tooth-enabled home theater system. A tempered glass range cover is standard, as are cool, efficient LED lights, and handcrafted cabinets with a subtle Mountain Ash finish. A lighter wood grain flooring contributes to the overall color scheme.
Behind the great styling are resilient vacuum-bonded walls, floor, and slide-outs, using a welded aluminum skeleton filled with rigid poly foam insulation. A heated, enclosed undercarriage protects tanks and occupants in cooler weather.
"GEO gives our dealers four innovative floor plans from 23 to 34 feet in length, all featuring the combination of luxury, convenience, and high perceived value they need to win the confidence and meet the high expectations of people new to the RV life," Dennig said. "Dealers can also add a wide range of options so purchasers can further upgrade their campsite lifestyle."
To see the new GEO and get more information, dealers can visit the Gulf Stream Coach display in Louisville and talk to Tim Dennig (574-876-6120; email tdennig@gulfstreamcoach.com.)
---
Red-Hot Gulf Stream Vista and Vintage Cruisers Earn RVDA Quality Award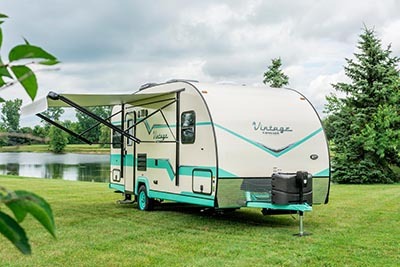 (November, 2016) Two extremely popular retail sales champions from Gulf Stream Coach, the retro-themed Vintage Cruiser, and the Euro-style Vista Cruiser, have been recognized by the RVDA with the prestigious Quality Circle Award for 2016.
"We're riding a wave of retail success that has earned the business over 175 new dealers this year," said Tim Dennig, Gulf Stream Coach Lightweight Division National Sales Manager. Our ultra-light Cruiser "cousins" have given dealers and their customers something to get excited about, causing crowds at RV Shows, 'gotta-have-it' cross-country buying trips to stocking dealers, and, perhaps most importantly, strong margins and incredibly fast retail turns on dealer lots."
"We're building for two types of buyers who expect top-quality construction, a high level of fit-and-finish, and a full complement of luxury features," said Dennig. "First, experienced RV'ers who want the ideal combination of convenience and luxury for traveling couples without giving up on quality or luxury. Second, new RV'ers who have high expectations driven by their experience with other travel accommodations and
technology, whose last vacation trip might have been a luxury cruise. In either case,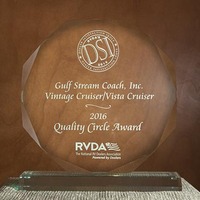 our "Cruisers" are hitting the mark!"
Gulf Stream Coach is pleased and honored to have earned the support and confidence of RVDA member dealers, who have recognized top-level performance by Gulf Stream Coach in four key areas: Reliability/Quality, Parts, Warranty, and Sales.
Several examples of the Quality Circle-winning Vintage Cruiser and Vista Cruiser will be on display at the upcoming RVIA Show in Louisville, and more information on the winners is available from Tim Dennig (574-876-6120, tdennig@gulfstreamcoach.com)
---
Gulf Stream Coach Expands Conquest Class C Lineup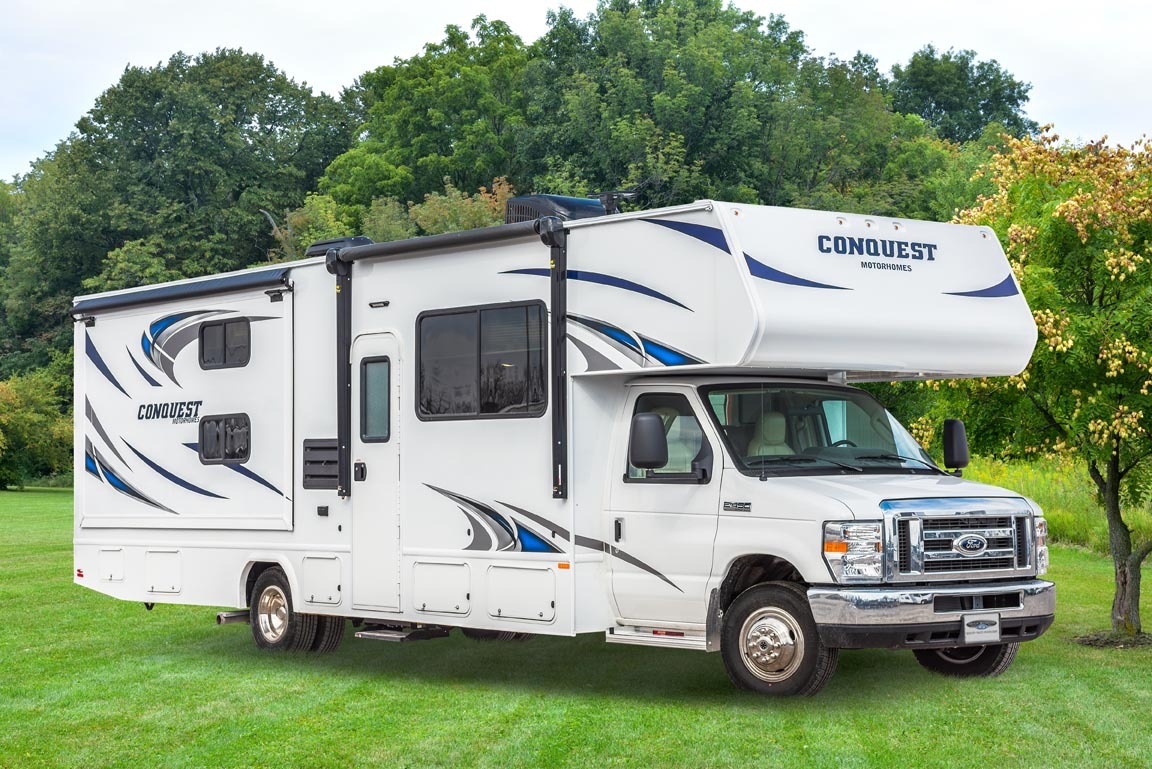 (September, 2016) Gulf Stream Coach of Nappanee, Indiana has added three new floor plans to its highly successful line of Class C motor homes, providing additional choices and retail opportunities to its growing network of more than sixty dealers across the United States and Canada. The new offerings, one with a single slide and two with double slides, also showcase numerous new interior features, the hugely popular "Roanoke Light Cherry" cabinetry, and attractive new exterior options.
"We've utilized over thirty years of experience building nearly 60,000 motor homes to create a line of Class C's that offer retail customers clear advantages in design, style, and construction," said National Sales Manager Bob FitzSimmons.
"As a result, our dealers can show retail customers specific advantages that elevate our Class C motor homes above all of our competitors," FitzSimmons continued. "From our exclusive "Cradle of Strength" construction that combines box-style steel trusses, extra frame reinforcements, and high-strength Huck Bolts, to our use of Azdel synthetic substrates, lightweight vacuum-bonded laminated high-gloss gel-coat walls, and other exclusive components, we're producing a safe, solid, and reliable motor home with a combination of features no other manufacturer offers."
"It's our goal to provide dealers and their customers with the best value, floor plans, and features in the industry," said FitzSimmons. "Adding it all up, we think the Conquest Class C is an Open House 'show stopper' for dealers and a wonderful choice for their customers."
Conquest Class C motor homes, along with scores of other Gulf Stream Coach towable and motorized products are on display September 19th - 22nd, 2016 during the Elkhart Manufacturers Open House in the Gulf Stream Coach site near the RV Hall of Fame. Additional information is available from Bob FitzSimmons (email bfitzsimmons@gulfstreamcoach.com) and on the Gulf Stream Coach Web site.
---
Gulf Stream Coach Chooses Chevy Chassis for its Most Value-Packed Class C Model
(August, 2016) As part of its strategy to give dealers the broadest possible retail market for its fast-selling Class C motor home, Gulf Stream Coach has chosen to build its new 'value-based' 6237LE on the Chevrolet 3500 Chassis.
"Because of retail customer preferences and dealership affiliations, the Chevrolet nameplate automatically enlarges the field of prospects who will buy a Conquest Class C," said Bob FitzSimmons, National Sales Manager for Gulf Stream Coach motorized products.
"Having Chevy chassis in our stable also improves our ability to meet demand and improve delivery times," FitzSimmons added. "Plus, the Chevy platform delivers the top-tier performance on every key measure of power, efficiency, handling, and comfort that our motor home customers demand."
Dealers can see the Chevy-based Conquest Class C at the upcoming RVIA Show in Louisville by visiting the Gulf Stream Coach Display. More information about the 6237LE and the rest of the Gulf Stream motor home lineup is available from Bob FitzSimmons (574-536-2705, email bfitzsimmons@gulfstreamcoach.com).
---
Model 5230 Is a Breakout Star in BT Cruiser Lineup

(June, 2016) While dealers report robust sales of the Gulf Stream Coach BT Cruiser, one floor plan, the Model 5230, has emerged as an early favorite. The 5230 is an ideal example of a "driver's RV," offering virtually all the comforts of home in a highly portable package that thrives on the road, whether on broad Interstates, back country blacktop, or small-town side streets.
"Like all BT Cruiser models, the 5230 is aimed squarely at RVers who consider "getting there" to be a key part of their travel adventure, with its emphasis on advanced aerodynamics, nimble road manners, low overall height, plenty of torque and power, and remarkable cargo capacity," said Bob FitzSimmons, BT Cruiser National Sales Manager.
FitzSimmons reports that owners find multiple ways to enjoy the 5230. "The maneuverability and just-right size of the 5230 make it a handy pet refuge when owners are sightseeing, a perfect outpost at the kids' soccer games, a fan favorite for tailgating, a great asset at any family outing, and the ideal magic carpet for exploring everything from big-city sights to wilderness vistas."
"Particularly appealing to RVers who are downsizing from much larger rigs is the ability to park, back up, turn, and get in and out of interesting places that big rig drivers have to avoid," FitzSimmons said.
Behind the driving compartment, the 5230 is equipped with a slide-out that expands the main living area, two comfortable sofas with seat belts, a removable dining table, gleaming stainless steel appliances, a surprisingly roomy double-door refrigerator/freezer, and a stainless sink with a pull-out sprayer faucet. There's a full 'dry bath,' too, with a shower that includes a skylight and power vent, a washstand with linen storage space, and a easy-care foot-flush toilet.
Comfort is further assured with an efficient furnace, a ducted roof-mounted air conditioner, and an on-board generator that easily handles the electrical load when parked. Of course electronic luxuries are on hand, including a rear back-up camera and dash-mounted monitor; cable, satellite, and antenna connections for an optional HDTV; and a multi-source Blue Tooth-compatible home theater sound system. Outdoor space is covered too - with a power awning that includes LED atmosphere lights and a pair of weatherized stereo speakers.
Like their million-dollar Class-A motor home relatives, BT Cruiser walls are manufactured from laminated panels of light but rigid square-tube aluminum, gleaming high-gloss fiberglass, advanced synthetic substrate, rigid polyfoam insulation; all vacuum bonded with heat-resistant adhesives. Sleek, aerodynamic molded fiberglass is used for the front and rear caps, and laminated fiberglass makes the roof virtually trouble-free.
According to FitzSimmons, while the 5230 - and the non-slide 5210 - are traditionally considered 'day coaches,' a surprising number of owners use the models as full-function RVs, taking advantage of the sofas that can be opened for sleeping, and the pleated shades that provide privacy. Other BT Cruiser floor plans include dedicated bedrooms and up to three slide-outs, so extended camping adventures are quite possible.
"The BT Cruiser 5230 is a compact, agile, stylish, premium-quality, yet reasonably-priced rig that could be considered the 'sports car' of motor homes, ideal for a traveling couple who want much more convenience and luxury than a car, but much less expense, hassle, and stress than a giant Class A," FitzSimmons said.
Additional information, pictures, floor plans and feature lists for all BT Cruiser floor plans are available from National Sales Manager FitzSimmons at 1-800-289-8787; bfitzsimmons@gulfstreamcoach.com.

---
Ameri-Lite 198BH Is "Franchise Player" for Many Gulf Stream Coach Dealers
(June 2016) While industry insiders love to promote new, untried travel trailer designs, successful dealers know their bottom lines depend upon reliable, market-proven floor plans that sell quickly and exceed customers expectations year after year. That's the key to the ongoing success of the Ameri-Lite 198BH, an entry-level non-slide bunkhouse model that is a profitable part of dealer inventories across the U.S. and Canada.
While the 198BH has benefited from many improvements in technology and engineering over the years, the basic floor plan has always featured a queen size bed, well-equipped galley kitchen, dry bath with foot-flush toilet, roomy dinette, and upper and lower bunks; all with a base weight under 2,800 lbs, and an impressive average retail turn rate of just 64 days.
"The ongoing popularity of the 198BH can be attributed to four market factors," said Ameri-Lite National Sales Manager Randy Baskerville. "First, and perhaps most importantly, the price of the 198BH bunk house appeals to budget-minded families with young children and to empty-nesters with grandchildren (or pets). That covers a huge number of potential customers looking for outdoor adventure and relaxation."
"Second, It's the right size and weight for many first-time RV buyers who have little experience towing a travel trailer. The low weight and a well-balanced chassis make for confidence-building on-the-road manners, even with smaller tow vehicles.
"Third, the features, price, and easy set-up of the 198BH make good sense for casual campers, who like quick, short getaways, and have a limited number of days available for camping each season.
"Finally, the rock-solid construction and high level of craftsmanship of the 198BH deliver a great owner experience, giving customers the kind of satisfaction that sends them back to their Gulf Stream Coach dealer when they upgrade," Baskerville said.
Baskerville went on to say, "When potential customers take a close ook at their needs, wants, and budget, they recognize the remarkable value represented by the 198BH. Because it is so often the right choice for buyers, savvy dealers find it appropriate to have multiple units on hand, to offer choices, meet demand, and provide immediate delivery.
"Having three to six 198BH floor plans on your lot is like money in the bank," Baskerville said.
For more information on the 198BH and other Ameri-Lite floor plans, contact Randy Baskerville at 800-289-8787; email rbaskerville@gulfstreamcoach.com.
---