Ameri-Lite, Ultra-Lite, and Super Lite Travel Trailers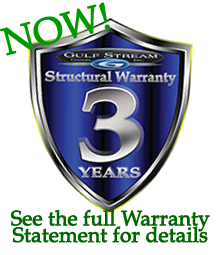 Ameri-Lite has made RV history offering two classes of extraordinarily light and economical travel trailers for over 15 years, the Ultra-Lite, and the Super Lite.
With 10 innovative floor plans from 19 to 27 feet long, our Ultra-Lites offer great value and solid, high-quality construction for families on a budget.
Even more economical are our much-loved Super Lite floor plans; 5 compact but complete travel trailers from 14 to 19 feet long.
Either way, Our Ameri-Lite travel trailers deliver top quality construction, roomy, comfortable accommodations, and well-proven floor plans inspired by people who know how to enjoy the outdoors.

Thinking about buying a new Ameri-Lite? Have questions? Click the button to get a phone call or email from a Gulf Stream Coach Ameri-Lite Factory Representative.
An Ameri-Lite Travel Trailer is ideal for you if:
You want remarkably affordable prices
You want simple but comfortable accommodations
You want a lightweight trailer that's easy to tow
You want Uni-Body construction
You're just getting started in the RV camping lifestyle