If you're like millions of families who have decided that their lives need a bit more fun, adventure, and travel, then it's likely you're considering RVing. Our pandemic-driven isolation has inspired the trend toward independent, family-based travel in many families like yours. Here are some reasons many consider the best-overall choice for families buying their first RV – the Conquest Class C 6238.
The Conquest Class C Model 6238 may just be the best all-around family-focused Class C RV in the world. Benefiting from almost 40 years of experience and refinement, the 6238 is economical, rugged, durable, flexible, spacious, and FUN!
You can get a look inside – Take a 360Tour of our Conquest 6238 here.
Here are the highlights that should put the Conquest Class C 6238 at the top of your "Want List:"
It's built on the incredible new Ford E350 chassis, with 350 HP, 425 lb/ft of torque, and the stunning performance of Ford's new 7.3L V8 engine. No matter where you roam, nothing gives you, your family, and all their gear a better ride!
The 6238 features the Gulf Stream Coach exclusive "Cradle of Strength" chassis reinforcement, that adds box-style trusses, braces, stringers and other steel reinforcement other makers simply don't use.
The 6238 provides frame-mounted seatbelts for every seating position, to keep passengers safe.
The 6238 includes a motorized slide-out to greatly increase the size of the living space.
The 6238 uses Azdel, a synthetic structural layer that replaces plywood as the barrier between the outside fiberglass skin and the interior living space.
The 6238 has one of the industry's biggest cab-over bunk areas, so kids and cargo have plenty of room.
The 6238 is equipped with a built-in generator so you can enjoy life 'off the grid.'
Gulf Stream Coach also INCLUDES a group of 15 special luxury features usually sold by other makers as extra-cost options. You get a backup camera, stainless steel appliances, air conditioning, and much more – all included!
It's "just right" in so many ways!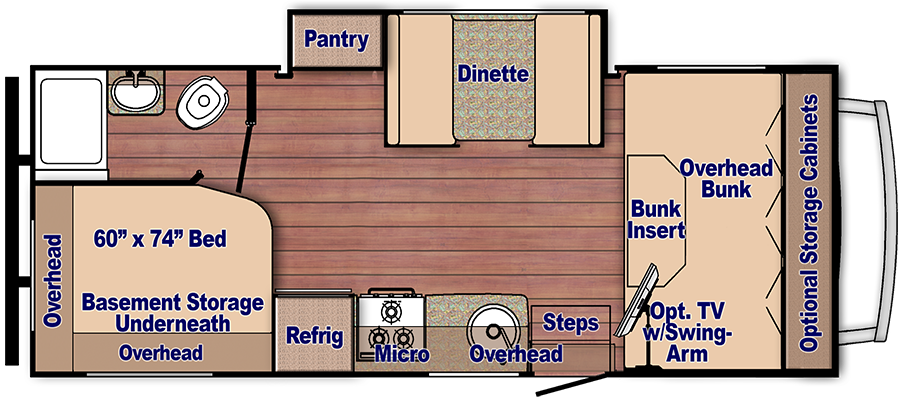 You can find bigger motor homes, smaller ones, fancier, and simpler. – Gulf Stream Coach itself offers two brands and 20 different floor plans. But year after year, family after family have made the Conquest Class C 6238 a top seller.
It's the right size for first-timers: Not too big to handle comfortably on the road, yet not too small for an active family. The 6238 is priced right, too, giving families an affordable way to make unforgettable memories for years and years. And, since it's built by the industry's leading independent, family-owned manufacturer, it has a legacy of quality and rugged dependability no other leading manufacturer can match.
You can learn more about the Conquest Class C 6238 here, on the Gulf Stream Coach website, and by visiting a Conquest Dealer near you.