Are you looking for a small, economical but well-built travel trailer as your first RV? You should consider the SVT line of travel trailers from Gulf Stream Coach. The SVT is ideal for first-time campers and casual RVers who want something a step above an "entry-level" economy trailer.
Start with unique, widely varied SVT floor plans.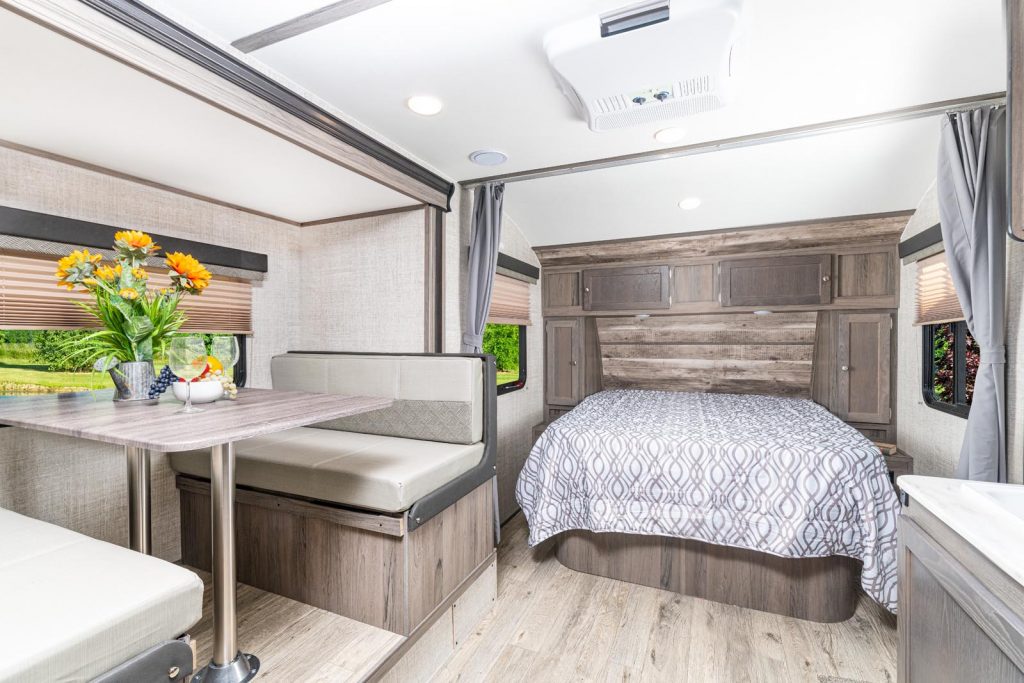 Looking for bunks? Try the 18RBD. Like the flexibility of a Murphy bed? Consider the 21MBS (with a sofa slide) or a 21MBD (with a dinette slide). What about the quick and easy set-up of a non-slide trailer? Look at the 18RBD, 19FMB, or 22UDL. And if it's a twin bed arrangement that suits you best, check out the 21TBD.
If you feel more comfortable with a slightly narrower trailer profile, the SVT line includes five floor plans that are just 7.5 ft. wide. That slightly smaller width improves your view to the rear, making backing, turning, and maneuvering easier and less stressful.
Include premium laminated-wall construction.
All SVT models use aluminum framed walls, with layers of gleaming exterior fiberglass, insulation, reinforcements, and structural panels. Wall components are coated with robotically-applied adhesives and vacuum-bonded into remarkably light, stiff panels.
Use Azdel synthetic substrate
This weight-saving fiber-based, made-in-USA panel separates the exterior world from the interior living space. Azdel provides excellent sound and temperature insulation, and can't absorb water, so it won't rot or mildew. It's the ideal state-of-the-art structural panel – See the whole story here.
Keep the weight of the SVT ultra-low
With base weights ranging from 3,300 to 3,800 lbs., SVT models are easily towed with a family car, minivan, or smaller SUV. You could save tens of thousands of dollars by towing with your regular car instead of a pricey pickup or other large vehicle.
Make smart use of inside space for maximum livability.
All SVT floor plans feature full "dry baths," and well-equipped kitchens. Other accommodations vary by floor plan, but all offer an ideal combination of living space and storage.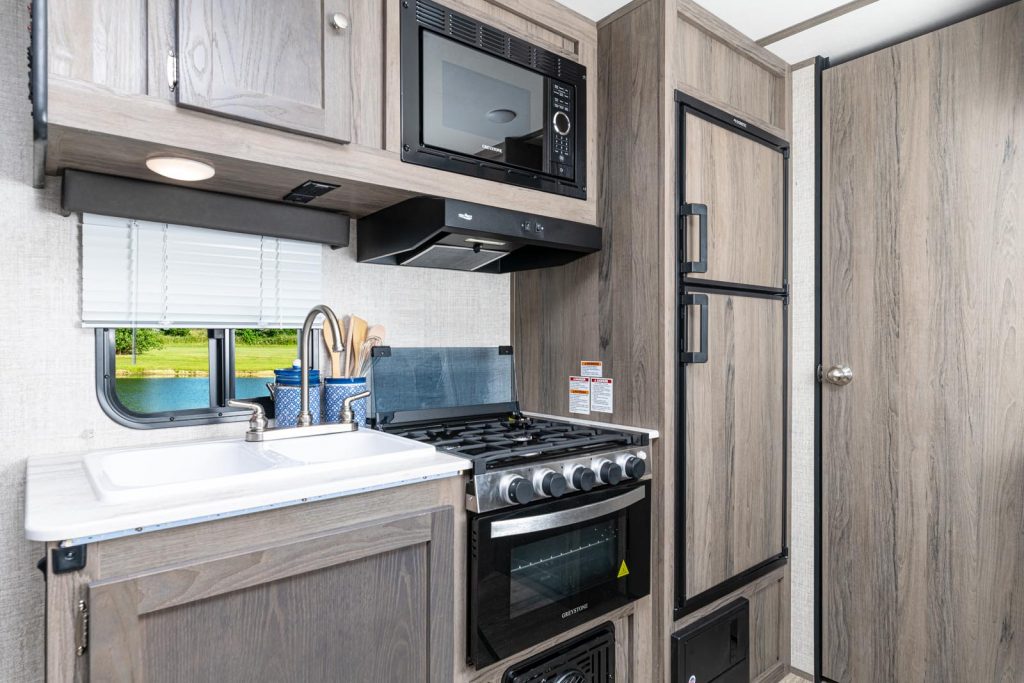 Include the right combination of luxuries and necessities
Instead of overloading SVTs with options, we include high-quality necessities and offer a wish-fulling list of options. Of course your SVT is "Tech-Ready" to add Wi-Fi, Cable & Satellite TV, a solar panel, and backup camera. Cabinets use solid wood stiles and wood doors. There are two 20-lb LP tanks up front, a seamless surround in the shower, a powerful LP gas furnace, and wiring for a roof-mounted.

With all the basics covered, you can also pick and choose the luxuries you can't live without. Among the many choices: Blue Tooth home theater stereo, aluminum rims with radial tires, roof-mounted air conditioning, a premium foam mattress, and much, much more.
There's more to the SVT story, of course.
We hope this brief intro convinces you that the SVT Series deserves to be on your travel trailer shopping list. Explore all the choices and options here on our site, or at a Gulf Stream Coach dealer near you.