The Ameri-Lite 16BHC, the smallest, lightest, and most economical travel trailer we build is a 'Little Giant.'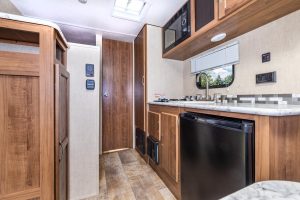 The Ameri-Lite 16BHC has been a mainstay of the Ameri-Lite line for years and years, bringing  the excitement, relaxation, exploration, and fun to countless thousands of people across the US and Canada.  The popularity of the Little Giant is based on its ability to provide up to four people with a rugged, reliable shelter against the extremes of the outdoors.  Plus, the 16BHC provides hot meals, cold beverages, a shower, toilet, big storage spaces, and a roomy dinette for meals, games, entertaining guests, and enjoying the great outdoors.
It's a complete '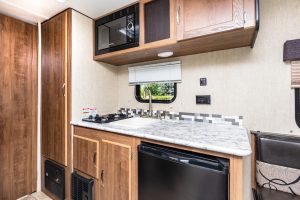 home away from home,' ideal for casual campers, campers on a budget, beginning campers, low-impact campers, and anyone who wants an outpost in the great outdoors.
Big features, rugged construction
Just 18'10" long, and 2,590 lbs., the Ameri-Lite 16BHC carries 30 gallons of fresh water, two 36-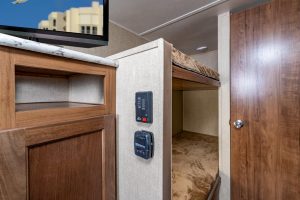 gallon waste tanks, and 20 lbs. of  LP.  There's a 16,000 BTU furnace, an optional roof-mounted 13,500 BTU air conditioner, and a 6-gallon gas water heater.  The entry door has a large frosted-glass window for natural light, and there's a large awning just outside the door.
The roof has a crown to shed water, and a seamless synthetic rubber membrane.  Walls and ceiling are tied together with steel straps.  Wall studs are 16″ on center; floor joists are 13″ on center; and the floor deck is one piece of structured 5/8″ plywood.
Every inch a Gulf Stream Coach
When you add it all up, the Ameri-Lite 16BHC "Little Giant" is every inch a Gulf Stream Coach travel trailer.  It's the the perfect starting point if you're looking have all the fun of trailer camping, without breaking the bank.  And it's a great example of the watchwords behind every Gulf Stream Coach product:  Quality, Value, and Innovation.
Like what you see?  Want to see more?  Click on over to the Ameri-Lite page on our Web site for more pictures, and specifications for this floor plan and others.