Our walk-through videos take you inside many of our popular products
If you're like many people, you love the chance to explore RV floor plans through pictures and videos.  That's why we we're excited to announce that we've flooded the Gulf Stream Coach Web site with 57 new walk-through videos to help you find the RV that's right for you!
Each walk-through video offers you a quick but thorough tour through one of our travel trailer, motor home, or toy hauler interiors.  In each video you get an in-person look at the living area, kitchen, bedrooms, baths, and other features.  All the walk-throughs are just 1 to 2 minutes long, and all are presented without the distraction of a salesperson's sales pitch.
Our videos are easy to find
Where are the walk-through videos?  There's a "View Our Videos" button at the top of every page that will take  you to the whole library, ordered by brand.   There is also a "Videos" choice in the "Shopping Tools" drop-down on every page.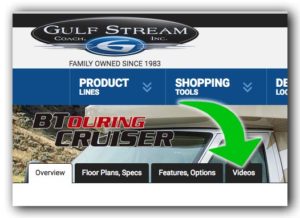 If you're on specific brand or model pages on the site, you'll find a "Videos" tab near the top of the page that will show you all the videos for that particular brand.
You're just clicks away from our entire video library
Either way, anywhere on the Gulf Stream Coach site,  you're just a click or two away from scores of walk-through videos that can help you see features, explore different layouts, and narrow down your favorites.  And while we have 57 walk-through product videos online already, the video library still isn't complete, so expect to see videos updated and added as time goes by.
When added to other shopping tools, like floor plan diagrams, photo galleries, specifications, feature lists, and our "get a price" tool, our new walk-through videos give you powerful ways to find the Gulf Stream Coach product that's ideal for you and your family!