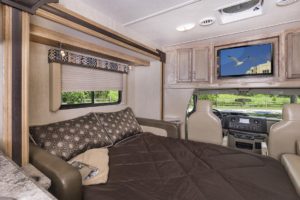 (February 28, 2017) "The Sports Car of Motor Homes" already makes the driving a dream, with plenty of power, nimble handling, and low-profile efficiency.  The living accommodations give you the comfort and convenience you need when you finally pull over and park – And now, the popular BT Cruiser Model 5230 has what may be the most comfortable convertible sofa-bed of any motor home it its class.  It's a wide, long, and luxurious queen-size bed when open, and a truly stylish sofa when closed.
Keep this BT Cruiser in mind!
If the Model 5230 fits your needs, take a look, make a note, and ask your Gulf Stream Coach dealer to include the new Tri-Fold Sofa Bed in the BT Cruiser we build for you!