Gulf Stream Coach has announced a new generation of motor home interior decor building on a decades-long heritage of style. New furnishings, fabrics, cabinetry, flooring, and other decor elements are now reaching the Gulf Stream Coach motor home assembly plant. That means that Conquest Class C's and BT Cruisers with the new interior decor are leaving us to reach our dealer across North America.
New Interior Decor – Bright, fresh, subtle, and stylish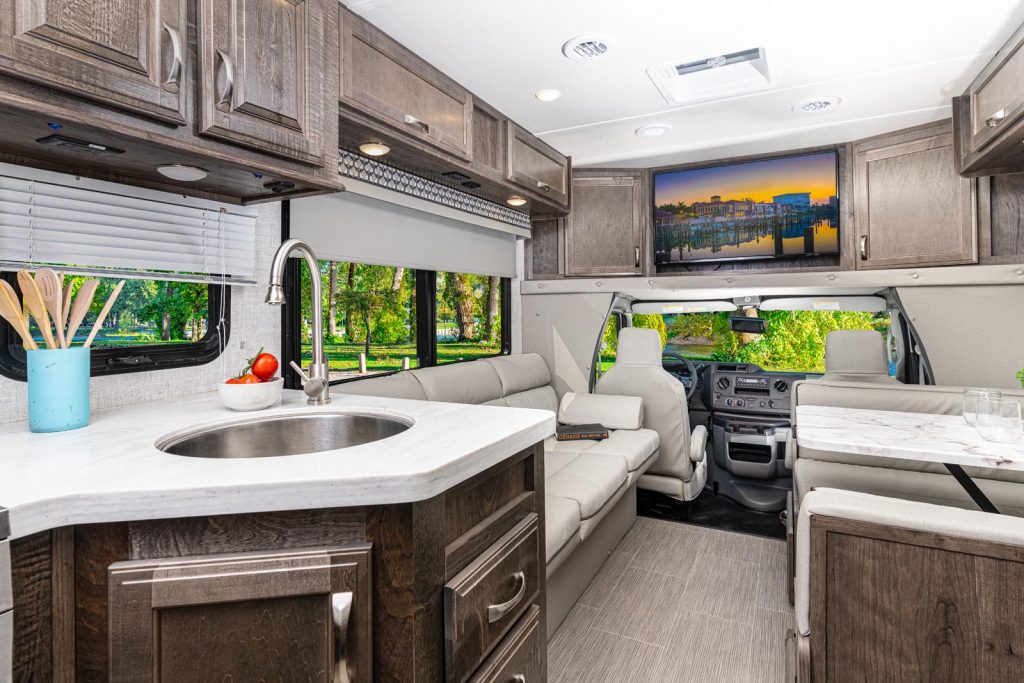 In creating the new decor, the Gulf Stream Coach Interior Designer took cues from some of the most stylish interiors in today's world. Her inspiration came from contemporary homes, private clubs, and luxury hotels. These interiors use uncluttered spaces and neutral colors as a backdrop for our fast-moving lives.
The browns and honey colors of the past have made way for cooler, more peaceful warm grey fabrics, olive-grey cabinetry and lightly veined near-white countertops. Subtle textures and patterns have replaced older, bolder prints, providing a bright, cheerful setting for casual activity. Living areas are perfect for colorful accents and accessories.
While good looks are essential, materials chosen for a motor home need to stand up to a life of outdoor adventures. That's why Gulf Stream Coach uses fabrics and vinyls that resist stains and clean up with ease.
Our cabinets combine great looks and functionality by making use of all available storage space. Cabinetmakers combine precision tooling with hand craftsmanship to meet the weight, space, and cost limitations of the RV environment.
There's more to the Gulf Stream Coach Motor Home Story
As important as our new decor is, it's just one reason why Gulf Stream Coach is the fastest-growing Class C brand in the industry. Another? Our exclusive "Cradle of Strength®" that uses extra steel to strengthen the standard chassis. And yet another: The fifteen most-requested luxury features that we include, but others sell as extra-cost options.
Like our new interior decor, Gulf Stream Coach motor homes stand above the competition, combining a decades-long commitment to quality, value, and innovation. Learn more at Gulf Stream Coach motor home dealer near you, and here, on our Facebook page.