Amid the healthy crowds and busy aisles at the early-season RV shows across the U.S. and Canada, a new "star performer" is emerging, giving RV'ers and other outdoor enthusiasts something exciting and fun to look forward to when the winter weather breaks. It's the Track & Trail line of 21′ to 34′ value priced toy haulers, and here, according to the RV customers who are buying them, are the key reasons the Track & Trail is so hot:
The Price! – With prices almost any active outdoor family can afford, Track & Trail toy haulers are the affordable dream-come-true. Most recent buyers of Track and Trail units didn't even think they were in the toy hauler market, because of the sky-high prices they have seen on so many other brands.
Ease of Towing – With dry weights form 3,800 to 6,000 lbs., Track & Trail units can be towed behind 1/2 ton pickups and many other towing-equipped family vehicles. No need for a heavy-duty diesel stump-puller, so buyers save tens of thousands on tow vehicles, and have less stressful time on the road.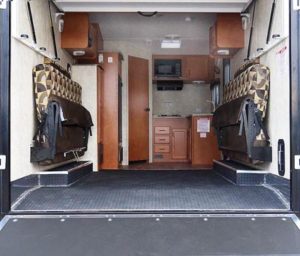 Room for All Kinds of Files – Many buyers know they might never roll a dirt bike up the ramp, planning instead to use the huge, rugged Track & Trail garage to move their kayaks, gas grills, water toys, lounge chairs, and other bulky gear to their favorite campground, for a summer full of family fun.
Multi-Purpose Cargo Space – It's ideal for go-karting, flea-marketing, dog-showing, gold-prospecting, and virtually every other outdoor activity that combines outdoor gear and overnight accommodations.
Rock-Solid Design Features – An 8 ft. ramp with 3,000 lb. capacity and a full-width spring-assisted hinge; a powder-coated steel generator tray, diamond-pattern rubber garage floor, fold-up sofas, a folding portable picnic table, and all the comfort and comfort and convenience any outdoor enthusiast could want.
For complete information on the Track & Trail line of toy haulers, contact your Gulf Stream Coach Dealer or visit the Gulf Stream Coach Web Site.