Revealed:  Full Paint Graphics Option for BT Cruiser
Gulf Stream Coach has released BT Cruisers with two striking full-body paint schemes that bring a heightened sense of glamour and style to "the sports car of motor homes."  The paint graphics come in response to RVers who know the BT Cruiser is one of the most glamorous motor homes on the road today.  These prospects aren't afraid to make other RV'ers jealous; they want to make heads turn wherever they go.
The BT Cruiser starts out with gleaming laminated fiberglass walls in a subtle mocha color, with white, tan, and chocolate graphic accents.  But for owners who want to stand out from the crowd, and cause a little drama wherever they go, the new full-body paint graphics are ideal.
A sense of motion and visual interest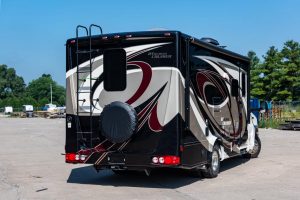 The color-coordinated swirls capture a sense of motion even when the BT Cruiser is standing still.  The pattern of offset arcs and ellipses provides plenty of visual interest.
The front and rear feature aerodynamic fiberglass caps that make the overall profile more graceful and fuel-efficient.  Steel-reinforced molded fiberglass running boards also add a sleek note of style.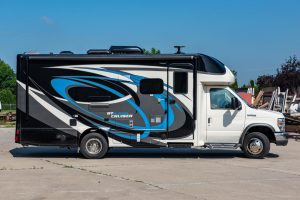 Overhead, the BT Cruiser features a seamless laminated fiberglass roof with a crown that helps shed water, melting snow, and other debris.  Every BT Cruiser also has a power awning just outside the entry door.  And every BT Cruiser has the extraordinary "Cradle of Strength," the ultimate network of steel reinforcements that adds stability, durability, and safety to the chassis.
"The Sports Car of Motor Homes" deserves a stylish paint scheme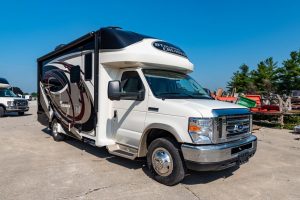 With the new paint graphics, or without, the one-of-a-kind BT Cruiser continues to live up to its nickname, "the sports car of motor homes."
If you're the kind of person who would look good in a full-paint BT Cruiser, jump to this page and spec one out, or click here to talk live with a BT Cruiser factory representative.