Try our Conquest Class C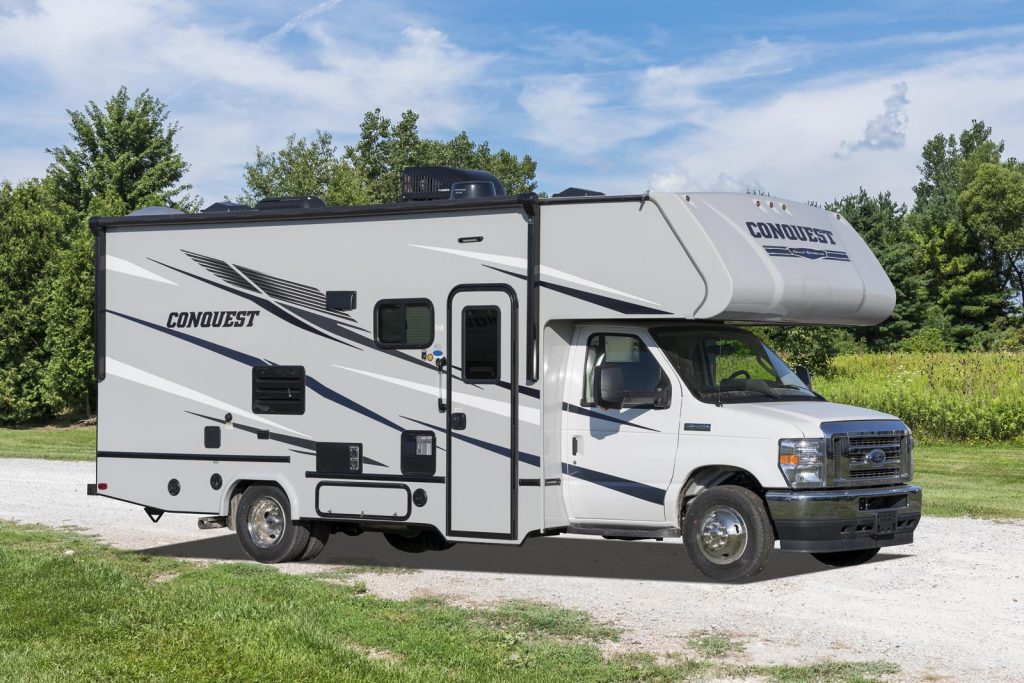 If you're like many new RV'ers, your first real RVing experience may be in a motor home that you rent rather than buy. Many Gulf Stream Coach dealers maintain fleets of motor homes that you can rent for a weekend, week, month, or longer. Renting can introduce you to the adventure of RVing while you discover what you'd like when you decide to buy.
What makes the Gulf Stream Coach Conquest a rental leader?
You'll find the Gulf Stream Coach Conquest Class C is one of the most popular motor homes available for rent. You may wonder what gives Gulf Stream Coach this leadership position among all the brands and builders.
We're glad you asked!
Here are some of the major reasons so many RV renters choose the Gulf Stream Coach Conquest Class C:
The "Cradle of Strength" adds steel reinforcements, braces, and welds to the Conquest chassis to lower the center of gravity and strengthen the foundation. No one else has the "Cradle of Strength" and no one else has the reliable, responsive handling of the Conquest.

Conquest walls use Azdel, a synthetic structural layer, to separate the outside world from the inside living area. Azdel can't absorb moisture and won't mildew or rot like plywood. Plus Azdel insulates better and weighs less than the wood it replaces. That makes it ideal for our light, durable, rigid walls.

We provide chassis-anchored safety belts for all seating positions in the Conquest. Everyone can travel with the security of a certified seat belt in a Conquest.

Our rental units include RV owners' fifteen most-requested, most-appreciated luxury features. Included are things most RV'ers consider essentials, like a backup camera, 4kW generator, motorized awning, big-screen HDTV, stainless steel appliances, and much more.
A legacy of quality and a passion for new ideas
Rental customers have built their confidence in Gulf Stream Coach over a thirty-eight year history of independence and quality. When that legacy is combined with our latest technology and style, the Conquest is the perfect choice for people renting a motor home.