The photographer took his camera inside one of the most popular floor plans in the Gulf Stream Coach lineup, the Conquest Class C 6238, and the results are posted online here.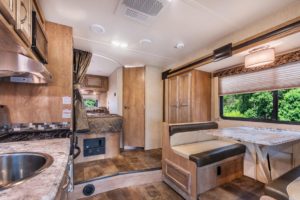 The 6238 provides motor home customers with every comfort of home, in a well-planned and skillfully built floor plan.  The 6238 includes a large 60″ x 74″ bed, a full dry bath, a large main living area with a convertible dinette in the slide-out, and a full stainless steel kitchen.
The 6238 Cradle Of Strength Foundation
We build the 6238 on the rugged, efficient, powerful Ford E350 platform, with the Ford 6.7L V10 engine.  But Gulf Stream Coach takes over just one inch above the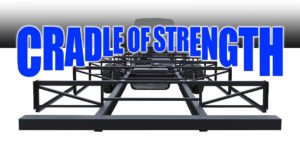 steel rails of the Ford chassis, where we add our exclusive "Cradle Of Strength®".  The Cradle Of Strength® (see our previous post) uses box-style steel trusses, steel stringers, welded braces, metal cargo boxes, and a diamond plate subfloor to help keep your traveling family safe and comfortable.
Laminated Fiberglass Walls
The 6238 is enclosed by lightweight yet rigid laminated fiberglass walls that use welded tubular aluminum, rigid polyfoam insulation, and synthetic Azdel subtrates.  We vacuum-bond these layers with advanced adhesives in our own lamination plant, using a proprietary process we've developed over the past 30 years.
We build the roof with a welded aluminum truss system and seamless synthetic rubber to shed water and resist leaks.
Stylish Interior Decor, Extensive Standard Features
The decor and furnishings inside the Conquest Class C 6238 reflect the casual yet sophisticated look popular in vacation homes, with extensive use of our Roanoke Light Cherry woodwork and coordinating fabrics, leather-touch vinyl, and easy-care wood-grain flooring.  Electronics include hookups for an optional HDTV/DVD player, a standard rear-mount backup camera and in-dash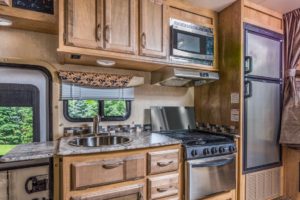 color monitor, USB charging ports, and cool, efficient LED lighting inside and out.
Drawers, cabinets, closets, and other storage areas are handy at every turn.  Floor-ducted heating and overhead ducted air conditioning keep your family comfortable, and a standard 4-kilowatt generator keeps everything powered up.
Take A Look at the 6238
Explore the gallery and see the 6238 for yourself.  Better yet, use our Dealer Locator to find the Conquest Class C line at a Gulf Stream Coach dealership near you.
Join our Blog-List
Click here to get email notice every time we add a new post.  You'll be the first to know about new products, features, technology, and events from Gulf Stream Coach.