We've spent over thirty years building motor homes that give you the same kind of comfort, convenience, and safety you enjoy in your own home.  So far we've put over 60,000 motor homes on the road – and, as you can imagine – we're really good at it!
Imagine this too:  Imagine what it's like to build a home that has to travel 70 miles per hour on an Interstate Highway, and wind its way along narrow, bumpy country roads.  Then imagine a home that has to go up and down hills, brave the rain, snow, and searing summer sun, all while carrying the people you love most from one place to another.
Because you put your family in our hands, we put a "Cradle Of Strength®" under your motor home.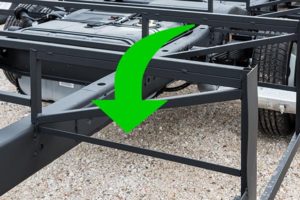 Unique in the RV industry, the Gulf Stream Coach "Cradle Of Strength®" is the carefully engineered foundation of steel we add to the motor home chassis.
Our Cradle Of Strength® uses large box-style TUFF TRUSSES rated at 6,000 lbs. each.  That puts more welded steel across the chassis rail than the triangle trusses other manufacturers use.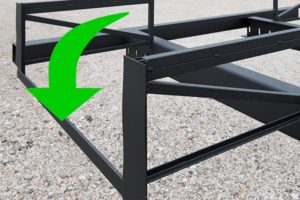 We further stiffen and strengthen the trusses with front-to-rear steel stringers.
We build our outside storage compartments with galvanized steel, not plastic, then wrap the insides with felt to protect your cargo.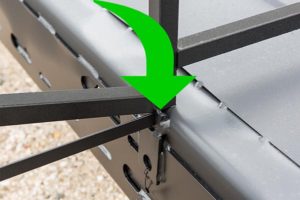 We use extra welds and brackets to mount our TUFF TRUSSES on top of the main frame rail so they can't shift down.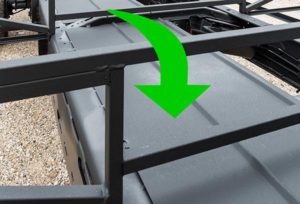 Finally, we cover the drivetrain and service lines with a 26-gauge galvanized steel sub-floor.
Our Cradle Of Strength is the perfect foundation for our laminated floor and walls, providing incredible stiffness, resilience, and durability.  That strength translates into more dependable road manners, easier handling, and an overall safer, less-stressful driving experience.
We give you a "Cradle Of Strength®" –  and no one else does.
If you want a "Cradle Of Strength®" as the foundation of your family's next RV, there's only one way to get it:  Choose a Gulf Stream Coach motor home.  Whether you prefer the family-favorite Conquest Class C, or "The sports car of motor homes" BT Cruiser, you can rest assured:  There's a "Cradle Of Strength®" supporting and protecting you everywhere you go.
Join our Blog-List
Click here to get email notice every time we add a new post.  You'll be the first to know about new products, features, technology, and events from Gulf Stream Coach.