PDI means "Pre-Delivery Inspection"
You're excited about checking out your new Gulf Stream Coach travel trailer or motor home as soon as you find it at your local RV dealership.  Before you sign the final papers and head off with your new treasure, you want to open all the doors, look in all the cabinets, turn on all the lights, and try all the appliances!  You're not just excited – you're smart, because RVs include a lot of systems, features, equipment, and furnishings.  You're doing a "pre-delivery inspection," or what the industry calls "PDI."
Yours is not the first pre-delivery-inspection for your new Gulf Stream, though.  In fact your new Gulf Stream travel trailer or motor home went through a thorough PDI before it ever left our facility.
Gulf Stream Coach PDI brings an independent set of eyes to the inspection process
At Gulf Stream Coach, PDI is a separate and unique step conducted after all of the inspections and quality-control processes used in manufacturing.  As a separate department, PDI brings a fresh set of eyes, independence, and objectivity to the inspection.  The PDI team uses a comprehensive checklist that covers every aspect of a Gulf Stream Coach product, from all the things you see to all the systems that work behind the scenes.  They're looking at things you might never think to check.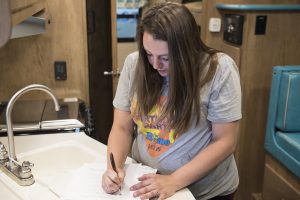 Furnace?  Check!  Air Conditioning?  Check!  Water Pressure?  Check!  Slide-Outs?  Check!  Fit and Finish?  Check!  It's a long list, and it's in the hands of a talented and detail-oriented crew that, in a very real sense, is working for you.  And if they find something that needs adjustment, it's done by highly skilled technicians right on the spot.
Our PDI Department does what other manufacturers don't
While assembly lines at other RV manufacturers may have quality checklists, Gulf Stream Coach has taken the extra step of creating a entirely independent department to conduct a thorough pre-delivery inspection.  Our PDI department is our way of giving you the highest quality product we can.  And it's another thing to keep in mind when you're choosing your new travel trailer or motor home.