At Gulf Stream Coach, we've been building the Super Lite line of travel trailers for more than a decade, and they continue to be among our most popular offerings.  Here are some of the reasons why:
1. Super Lite travel trailers are very economical
Our Super Lite models (see the floor plans and specifications here) are our most affordable travel trailers.  In fact, they often rival pop-ups and other basic campers that don't offer anything comparable to Super-Lite comfort, security, and durability.  If your budget for a travel trailer is limited – If you want a truly economical way to try out the RV lifestyle, there is no better starting point than our Super Lites.
2.  They're easy to tow
With base weights below 3,200 lbs, our Super Lites can be towed by a suitably equipped car, smaller SUV, or mini-van – No need to invest in a specialized tow vehicle – Just hitch up to your family vehicle.  They're just 7 ft. 8 in. wide, too, so you won't need extensions for your rear view mirrors.  With their short wheelbases, they're easy to maneuver and turn.  They're small and nimble enough to go virtually everywhere your vehicle can go.  Add it all up, and Super Lite trailers are ideal for new and occasional RV'ers who don't have a lot of experience towing.
3.  They cover all the basics – beautifully!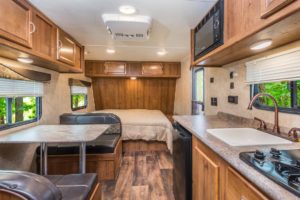 No matter what kind of camping you plan, you'll want a safe, comfortable, well-insulated place to sleep, a place to sit and relax, a way to make meals and snacks, and a full, 'dry,' well-ventilated bathroom.  You'll probably want a stereo for music, and a TV for entertainment; you'll want a furnace for cool nights and a roof-mounted air conditioner for warm days.  Hot and cold water is a must, so is plenty of storage space. Bunks for youngsters?  Sure, they're available too.  With a Super Lite, you can have everything you want and need!  There's no reason for you to settle for less, even in an 'entry-level' trailer.  Plus, we have perfected our floor plans and building methods over a decade, so you benefit from all the input we've received from owners, as well as advancements in construction methods and materials.
4.  They're built to our high Gulf Stream Coach quality standards
Super Lite travel trailers use our exclusive "Uni-Body Construction" technology (learn more about it here), that ties the walls, floor and ceiling together with tough steel straps.  We provide a firm foundation for walls by setting them on top of the floor, then bolting them in place.  We hand-cut thick fiberglass insulation to fill the walls, roof, and subfloor, and then glue it in place to prevent settling.  Our seamless 'super-floors' span up to 25 feet with no seams or joints, to make the floor solid and trouble-free.
We use rigid tubular steel rails and full-length outriggers in our Super Lite trailers, for a solid foundation; walls and roofs use solid wood studs on 16″ centers, for plenty of strength and durability; and the seamless synthetic roof has a 12-year warranty.  Even the Super Lite holding tanks are something to brag about, with the largest capacities of any trailer in this class.
Putting it all together, it's clear:  Gulf Stream Coach Super Lite travel trailers are the ideal choice for people who are excited about camping, and want a truly affordable, easy-to-use, rugged and dependable travel trailer.  Explore our Web site or visit a Gulf Stream dealer near you to learn more.
Join our Blog-List
Click here to get email notice every time we add a new post.  You'll be the first to know about new products, features, technology, and events from Gulf Stream Coach.